Eurovision 2013 in Malmö, Sweden!

Welcome to Nighttours Eurovision. Our new Eurovision Song Contest website will keep you and all other fans up to date on Eurovision (pre)parties, shows and events around Europe, celebrating Europe's favorite tv show. Enjoy the music, the acts, the glitter, the camp, the scandals and the fans (who are most likely gay...).

Loreen won the contest in Baku 2012 with a landslide. This means Malmö, Sweden will host the Eurovision Songcontest 2013 for the fifth time, after ABBA, The Herreys, Carola and Charlotte Nilsson. The ESC circus will move to the north to be the center of the music world for 2 weeks.

Eurovision is not just a great event to watch on television, it's even more fun to travel there and meet up with fans from all of Europe!

The dates: 14, 16 and 18 May 2013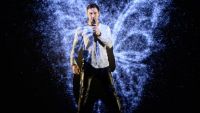 Eurovision 2013 will be held in Malmö, Sweden on Tuesday 14 May (first semi Final), Thursday 16 May (second semi Final) and Saturday 18 May (the Grand Final) 2013. The event attracts thousands of European fans, who will enjoy the big media circus, the country parties, the Euroclub and many Eurovision parties all around town.

The Malmö Arena where the contest will be held was opened in 2008. It has a capacity of up to 15,500 for concerts but for the Eurovision Song Contest, the capacity will most likely be lower.

Nighttours Malmö: host city for 2013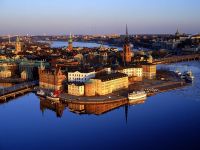 Malmö is the third largest city in Sweden with a population of 664,000 people. It has easy access to Denmark via the Öresund bridge which is the longest road and rail bridge in Europe. Malmö is a small, friendly city with a good choice of cultural attractions, quality restaurants and great cafés.
Malmö has already hosted the contest once, back in 1992 after the Swedish pop-star Carola won the contest in 1991 with Fångad Av En Stormvind.
Find out about the host city of 2013, Malmö where to go. Check the local gay bars and clubs and find a hotel on our Nighttours.com city page: Malmo
Eurovision parties and events coming up
May
June
July
August
September
October
Book your hotel in Malmö (or Copenhagen...)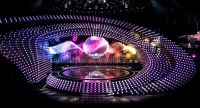 Nighttours Eurovision is happy to announce that Malmö is getting the honor of hosting ESC 2013. I you want to visit Eurovision, make sure you book a hotel now.
Alternatively, you can book a hotel in beautiful Copenhagen, as this Danish city is only 25 km from Malmö. The two cities are connected with a long bridge. Trains to Copenhagen's larger gay scene leave throughout the day and night and take 35 minutes from city centre to city centre.