Guide to gay Cologne / Köln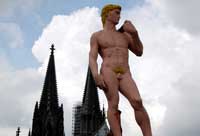 Cologne is situated at the River Rhine. The city's famous Cologne Cathedral (Kölner Dom) is one of the well-known and dominant landmarks in the city, which was almost completely destroyed during WWII. Cologne has one of the biggest gay communities in Germany.
Cologne is Germany's gay party capital. The city hosts some of the most well-known party brands.
The gay visitor can also enjoy a vast amount of gay bars, cafés and clubs.
Berlin is more famous for it's leather and fetish parties and events.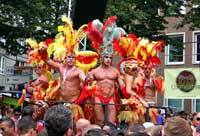 Cologne is also famous for its yearly Cologne Gay Pride - CSD, one of the biggest gay prides in Europe.
And don't forget the traditional Carnaval! This also attracts a lot of gay guys.
Travelling to Cologne
Cologne has good connections by air and by train.
By plane
Cologne Bonn Airport handles international and domestic flights and is a hub for the lowcost airlines such as GermanWings, Easyjet and TUIFly. The airport is approximately 15 minutes by S-Bahn (local train) to the center of Cologne.
Another option is Düsseldorf International Airport. The Düsseldorf airport offers many intercontinental connections. Train ride from the airport train station to Cologne central station takes approximately 45 minutes.

By train
Cologne is served by two major train stations - Köln Hauptbahnhof and Köln-Deutz and offers fast ICE-connections to all mayor Geman cities, Amsterdam, Brussels and Paris by Thalys.

Where to stay?
Book your hotel near Rudolphplatz or the Rhine river. Then most of the gay bars, clubs, shopping and restaurants are near a walking distance. See our hotel page for suggestions and a map of hotels near the gay places.
hotels in Cologne
Hotel search
City: Cologne